Trust | Respect | Cooperation
Give the gift of this transforming experience.
This activity requires teamwork. Stania, the park's director, will accompany visitors on this transforming experience. In order for the owls to feel safe in their presence, they will have to overcome small challenges.
Learn to trust in oneself. Believe in their mates.
Teamwork.
Without a doubt, participating in the owls experience not only creates unforgettable memories, but will also help them to become better people.
They will be able to apply the values they will learn during the owls experience in their daily lives. If they can get wild animals to trust them, it can't be much more complicated with people. What do you think of it?
Who can you give the Owls Experience to?
To your couple
Working as a couple with a common goal requires trust, mutual respect and collaboration. These are very important values in a relationship.
To children
The little ones in the family will have the opportunity to show what they are capable of under Stania's special care.
To your parents
What better gift can you give your parents than to relive exciting experiences together?
To friends
Spending time together and living extraordinary experiences forges a better relationship between friends.
Make the Owls Experience a marriage proposal
Contact us. We'll explain how other couples have done it. So far they have been 100% successful.
How the Owls Experience works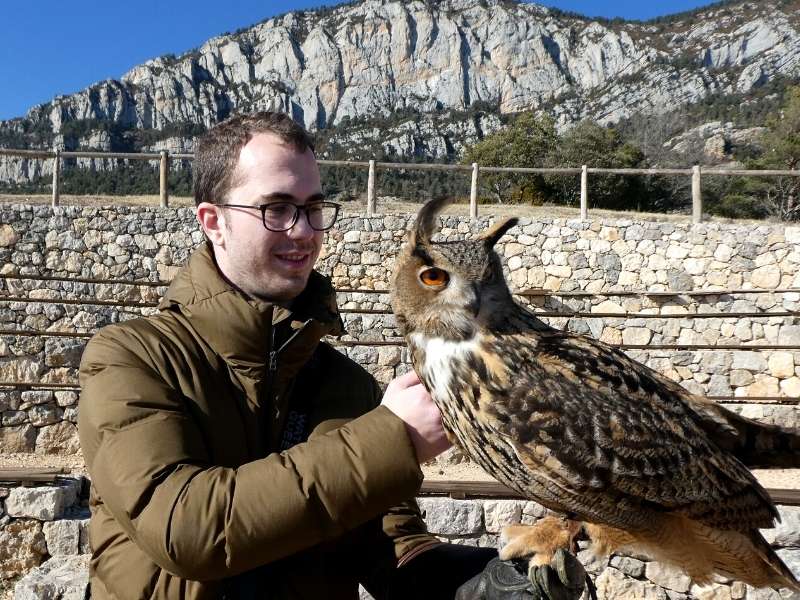 The Owls Experience is an exceptional gift.
The participants will carry the owls in their gloves, feed them and make them fly. They will learn in an extraordinary way about nocturnal birds of prey and about themselves.
About the Owls Experience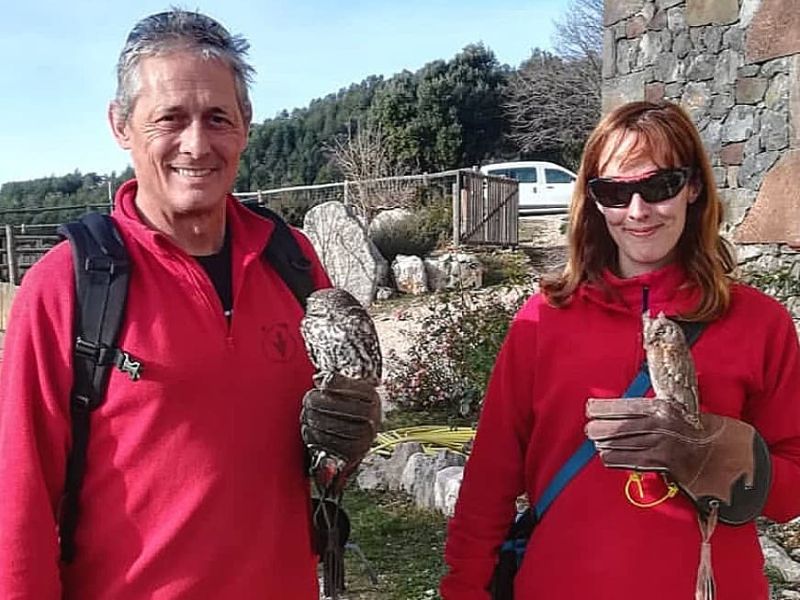 Development of the activity
Introduction
Delivery of professional tools
They will start by wearing a small owl on their glove
Then they will be fed in the right way
They will start to make them fly: first from a fixed place to the hand
To level up, the owl will fly from one participant to another.
Visitors will be able to fly a barn owl without help
They will meet an eagle owl in person
Finally, they will be able to experience the sensation of making it fly
Owls Experience Schedule
The Owls Experience is available all year round. It is done every day. It lasts 1 hour and a half.
Price of the Owls Experience
This activity is available only for private groups. It costs €120 for the whole group, regardless of whether one person participates or if they are 5.
Available languages
We can do the Owls Experience in Catalan, Spanish, English or German.
Participants
Up to 5 people can participate in each session. Although you can give this experience to one person, we recommend that that person does not come alone. A very important part is the cooperation between the participants. We remind you that the price does not vary if in the experience participates 1 person or 5.
The recommended age to participate is from 6 years. However, we can adapt the experience to all ages of visitors.
Notice
Birds of prey eat raw meat and therefore participants must touch it during the Owls Experience. If someone dislikes raw meat, Stania will help them.
Participants will be equipped with professional falconer tools and Stania will supervise the entire experience to control animal welfare and visitor safety.
The Owls Experience is a gift of enormous value, not only because of the direct contact with the animals.
It is a transforming experience for all participants.
Are you ready to change the life of someone you care about?